The MT240 HEC (40 HP) Features a two-pedal 3-range hydrostatic transmission. An economy cab with a premium cloth seat, rubber floor mat, and more are standard.
LOADER LIFT CAPACITY

2,178 – 2,185 lbs.

HITCH LIFT

1,808 lbs.

ENGINE HP

40.0 HP

PTO HP

32 HP
MT240HEC – 40HP
*Exact model shown in 360° view may vary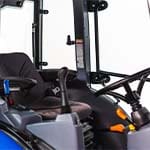 Left And Right Cab Doors
Premium Seat Providing Access To Either Side Of The Cab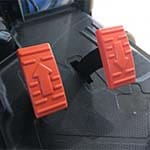 3 Range Hydrostatic Transmission
Provides Comfort And Excellent Controllability Of Tractor Movement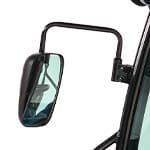 3 Standard Dual Mirrors
Provide Added Visibility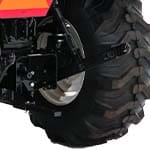 3 Standard Drawbar
Provides Value And Enables Trailering etc.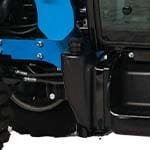 3 Ground Level Fueling
Provides Easy Access
Standard Grille Guard With Loader
Provides Added Protection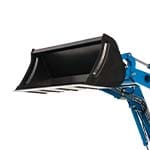 High-Capacity Loader
With High Lift Height And Standard Skid Steer Coupler
Standard Integrated Joystick
Mid Mount Valve, Providing Deluxe Fit And Finish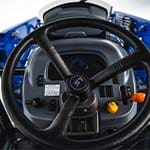 Electronic PTO
For Ease Of Use
ENGINE
Type: Vertical Water-Cooled 4Cycle Diesel Engine
Model (Tier 4): L3C19-T
Engine HP (Gross): 40
PTO HP: 32
Rated Speed (RPM): 2,600
Displacement (cu. in.): 114.7
Fuel Tank Capacity (gal): 12.4
Alternator (A-V): 12V – 70
DRIVE TRAIN
Transmission: HST
No. of Speeds: 3 Ranges (HST)
Brakes: Wet, Multi-Disc
Steering: Hydrostatic Power Steering
PTO
Type: Independent
Rear RPM: 540 (Standard)
Mid RPM: 2,000 (Option)
HYDRAULIC SYSTEM
Control System: Position/Draft
Implement pump (gpm): 8.2
Steering pump (gpm): 5.5(HST)
Steering: Hydrostatic Power Steering
Total flow (gpm): 13.7 (HST)
Category, 3 pt hitch: CAT 1
Hitch Lift capacity (lb): 1,808
Remote Valves: Option
DIMENSION
Overall length Frame to Link (in.): 128.3
Wheelbase (in.): 69
Overall width with tires (in.): 62
Height to top of ROPS(in.): 86.6
TIRE SIZE
Ag Front/Rear: 7 – 14 / 11.2 – 24
IND Front / Rear 25 x 8.5 – 14 / 43 x 16 – 20
Turf Front / Rear 25 x 8.5 – 14 / 41 x 14 – 20
WEIGHT
Total weight without ballast (lbs).: 3,661
Telescopic Link Arms
Side Step – RH
7 Pole Connector
Horn
Sun Screen
Interior Rear View Mirror
External Position Lever
Beacon Lamp
Work Light
Audio Assy – without Bluetooth
Audio Assy – Bluetooth
Rear Wiper
Mid PTO
Remote Valve – 2 Pair (1 STD. 1 Detent)
FRONT END LOADER – LL3116
Bucket (in): 66
Maximum Lift Height (in): 92.7 – 94.4
Clearance with Attachment Dump (in.) 61.7 – 64.4
Reach at Maximum Height (in): 15 – 15.4
Maximum Dump Angle (deg.): 48 – 52
Maximum Rollback Angle (deg.): 43-41
Digging Depth (in): 4.3
Overall Height in Carry Position (in): 49.1 – 51.4
Lift Capacity(At Pivot pin) (lbs.) 2,178 – 2,185
Breakout Force(At Pivot pin) (lbs.): 3,450 – 3,612
Approx. Weight (Loader w/o Bucket) (lbs.): 717
BACKHOE – LB2104
Digging Depth (in): 89.7
Reach From centerline of swing Pivot (in): 125.2
Loading Height (in): 72.4
Swing Arc (deg.): 180
Transport Height (in): 83.5
Bucket Rotation (deg.) :180
Stabilizer Spread (Down Position) (in): 68.7
Stabilizer Spread (Up Position) (in): 46.4
Bucket Digging force (lbs.): 2,679