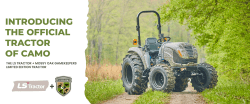 The Official Tractor of Camo Has Arrived
The LS Tractor + Mossy Oak Gamekeepers Limited Edition Camo Tractor will be stocked at select LS Tractor dealerships at the end of October.
BATTLEBORO, N.C. – September 13, 2023 – LS Tractor USA officially announced its launch of our first ever limited-edition camo tractor. Earlier this year, LS Tractor partnered with Mossy Oak Gamekeepers, the pioneers of camouflage and the brand best known by outdoor enthusiasts. The partnership has been working diligently to get LS dealerships stocked with the limited-edition tractors for their camo-enthused customers just in time for the most wonderful time of the year: hunting season.
"At Mossy Oak Gamekeepers, having a great tractor is at the top of our list for enhancing our life outdoors! With today's world consuming so much time, a dependable, hardworking tractor is more important than ever. It is indeed the first and foremost tool to have for owning and caring for the land we love. At Mossy Oak, we are truly "tractor people" and put ours to the test year-round in all sorts of conditions. I can truly say I have been more impressed with the new LS tractors than any other I have owned. Honestly, they are so well built and thought out, plus the LS brand and its people are just great folks to work with," declared CEO and Founder of Mossy Oak, Toxey Haas.
Earlier this summer, LS Tractor dealers participated in the pre-order of the limited-edition camo tractor to get their dealerships ready for the launch. There will only be 100 limited-edition camo tractors available. The first 50 tractors will hit dealerships by the end of this October and the second 50 will arrive by December.
The camo tractor is a MT357 ROPS Hydrostat, offering the same durability and performance as your favorite blue tractor except this time covered in the popular Mossy Oak Bottomland pattern. The camo tractor will feature black rims, black tires, and a black loader, offering a new sleek look for individuals who want to blend into their environment.
"And now with the Bottomland Gamekeeper Edition being offered, Mossy Oak and LS Tractors are making history by offering a camo tractor! To say we are proud and excited is an understatement! Together we are looking forward to bringing you so much more in the future while both brands stand strong for land and wildlife conservation." Toxey enlightened.
The LS Tractor and Mossy Oak Gamekeeper collaboration has provided wildlife management education merged with tips on tractor use and how the two can work together to instill habits for lifelong stewardship.
LS Tractor's Marketing Director, Rich Hollady explained, "There's a reason why LS Tractor decided to partner with Mossy Oak Gamekeepers. The story behind their values of humble roots, hard work, and a ton of heart rings true with our brand and passion to connect our customers with the great outdoors. This is an exciting opportunity for 2 strong brands to come together and offer an exclusive product that no other tractor brand has ever done."
LS Tractor has a wide range of features that can be used for land management, whether that is for work or play. The camo tractor will be an excellent tool for hunters, fishers, and outdoor fanatics alike that care for their land with pride and consideration for future generations to enjoy.
Rich illuminated, "With our MT357H, you can be one of the limited few to own America's number one camouflage pattern with one of America's fastest growing sub-compact tractor brands. We are excited about this partnership and the uniqueness of this limited offering just for you. At LS Tractor, we know that for our customers, camo is more than just a pattern: it is a reflection of their way of life."
An LS Tractor is the tool every Gamekeeper needs to live a lifestyle that represents Mossy Oak's core values of wildlife conservation. To learn more about how to get your own limited-edition camo tractor, contact your local LS dealer or visit https://lstractorusa.com/mossy-oak-tractor/
The post The Official Tractor of Camo Has Arrived appeared first on LS Tractor USA.